Here at FREE GENEALOGY we're keen on discovering our past ancestry and discovering more and more members of our family tree. The other day I had contact from an ancestor from Australia and low and behold a lot more family members to start adding onto the family tree and to delve into further.
I'm very very thankful that the web can start to help make genealogy and the ancestrial hunt that much easier (and harder in some ways) and as such wanted to detail down some helpful hints and tips about the immigrants guide to Australia.
Good luck in your search from the Free Genealogy team.
Immigrants Guide to Australia
All passengers, regardless of their travel class, were allowed to take baggage to the extent of fifteen or twenty cubic feet.
For the many months of the voyage, wives were instructed to take three cotton dresses, one pair stays, four petticoats, sixteen chemises, two flannel petticoats, whilst husbands were instructed to take two fustian jackets, waistcoats, and trousers, three pairs canvas trousers, one over-coat, and two felt hats.
Men were advised that the wife make as many of her clothes on board as possible, as the occupation serves to pass away many an otherwise idle, heavy hour.
Three types of travel were available -- cabin, intermediate, and steerage with tickets costing between £20 and £70
Women received the same rations as men. Children between one and fourteen receivedhalf an adult's rations. Children under one, no ration, except one quart of water daily.
Matrons were appointed to undertake the motherly duty of seeing that all the young females are in their sleeping apartments at a proper hour.
Passengers were required to rise by 7am and to be in their beds by 10pm.
Source: Capper J. 'The Immigrant's Guide to Australia', George Phillip & Son, 1853.
Search More Australian Content on Free Genealogy for FREE here.
www.Ancestry.co.uk - 14 day FREE trial - Start your Family Tree and search your records
Genealogy records:
Having trouble finding your family history records? Enter your Surname here!
Read news releases and articles concerning the latest Online family records:
Search over 600+ Historical Databases
Search for Genealogy records online!
Genealogy Search Tips - review 1
Getting started with Genealogy
Click to search about:
News Archives:
January 2006
Feburary 2006
March 2006
April 2006
May 2006
June 2006
July 2006
August 2006
September 2006
October 2006
November 2006
December 2006
More Resources
Additional information about the your Genealogy
Genealogy Records
Having trouble viewing your family history documents? Click here for FREE samples
(Acrobat Reader Required)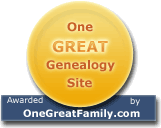 Research your
genealogy
at
OneGreatFamily!