Search Ancestry.co.uk's Top USA Databases. Some are free and some require payment although if planned well enough you can search for free using the following FREE trial link.
Get Unlimited Access to over 500 million records with your FREE 14 day trial to Ancestry - Click here
Other Country Records - Click your flag
United States Top Databases
United States Census Records
United States Birth, Marriage, & Death Records
United States Community & Message Boards
United States Immigration & Naturalization Records
United States Military Records
United States Directories & Membership Lists
United States Family & Local Histories
United States Periodicals & Newspapers
United States Court, Land, Probate Records
United States Reference & Finding Aids
Genealogy records:
Having trouble finding your family history records? Enter your Surname here!
Read news releases and articles concerning the latest Online family records:
Search over 600+ Historical Databases
Search for Genealogy records online!
Genealogy Search Tips - review 1
Getting started with Genealogy
Click to search about:

News Archives:
January 2006
Feburary 2006
March 2006
April 2006
May 2006
June 2006
July 2006
August 2006
More Resources
Additional information about the your Genealogy
Genealogy Records
Having trouble viewing your family history documents? Click here for FREE samples
(Acrobat Reader Required)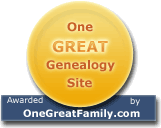 Research your
genealogy
at
OneGreatFamily!