Want to link to Free-genealogy.co.uk? Send an email HERE with your website URL. Don't forget to link back! (Due to amount of emails this could take a couple of weeks)
SITE LISTINGS >> Shopping and Services
As genealogy grows so does the good old shopping and services area. Below is a list of sites that offer some interesting options - Some will cost though. Updated on a regular basis it's good to always check back.
Family Genealogy Tree - This free online book provides you with the knowledge you need to build the history of your ancestors, without leaving the comfort of your own home.
Family Tree Service - Are you looking for a truly unique, personal, and stunning gift?
Golden Memories Charts - Golden memories your family tree chart specialist
Music Systems - A wide selection of high quality electronic equipment, music
systems, usb turntables, digital radios, digital cameras, digital video
cameras and more. Experience secure and high quality online shopping at
MirrorReaderOffers.co.uk.
Professional Translation Services - Translate your family history the easy way through Applied Language
Family Traits - Geneaogy Archive Research. Professional Genealogist and Family Tree packages.
Benson Genealogy - English and Welsh Ancestry research service
Irish Ancestries - Irish genealogy and family history researchers. With access to Irish records and archives, we can search for the records that you need. "Finding the roots to your family trees"
Parish Chest - online family history and genealogy store. Parish Chest carries a range of useful items to help trace ancestry and build a family tree.
Helm's Genealogy Toolbox - includes genealogical software profiles, search engines, digitized images, how-to articles, queries, and genealogical news stories.
FamilyHistory.com - information on products, genealogical news, advice from industry experts, searchable genealogical databases, links to other family history and genealogy web sites.
Oxford Ancestors - harnesses the precision of modern genetics in the service of genealogy. Also researches the geographical distribution of surnames in Britain.
Scots Origins - pay-per-view database of Scottish genealogical records dating as far back as 1553.
Family Research Link - provides original indexes of births, marriages, and deaths for England and Wales from 1837 to 2001. Includes the 1861 census.
OneGreatFamily.com - offers an interactive genealogy browser, incorporating tools for family news, scrapbooks, calendars, cards, and family trees.
Association of Personal Historians (APH) - organisation whose members help others preserve their life stories and memories.
Genealogy Services - provides a list of professional research genealogists around the world.
genealogyPro - directory of professional genealogists and genealogy services around the world. Includes specialistes such as adoption and military researchers and translators.
Border Art - produces genealogy maps of Ireland, Scotland, and the English borders which provide information on clans and family ancestry.
Genealogy Forum on CompuServe - online services to assist you in researching your family tree; more than 8,000 genealogy-related files are available for downloading.
Surname Guide - single family tree source for finding and researching family names.
Your Family Legacy - genealogy and scrapbooking supplies including books, forms, software, albums, and more.
American History Company, The - offers professional research services, genealogy books and supplies.
Moobasi Genealogy Products and Services - sells genealogy books, software, CD-ROMs, etc.; links to many other genealogy sites and a growing collection of related clip-art.
Welsh Genealogy Photography Requests - documents any Welsh house, building, church, or gravestone connected to family history in South Wales.
Historical Research Center - names, coat of arms and family name history giftware, heraldry, gifts, genealogy, reference, crests, and gifts.
New York Genealogical and Biographical Society - if you are interested in genealogy and your ancestors lived in New York State then visiting the NYG&BS site may help you to pursue your research.
Celtic Origins - professional genealogists trace your Irish roots.
InfoKey.Com - offers family history scrolls, plaques, steins, and more.
Ye Olde Genealogie Shoppe - items related to genealogy and genealogical research.
AncesTree - offering a mounted format to display your family tree with pictures.
Ancestral and Family Tree Genealogy Quilts - offers custom cotton quilts and wall hangings with hand-stitched family trees.
Lineages, Inc. - reference library and resource centre for genealogical and historical information.
North Carolina Genealogical Society - with society information and links to other sites for NC genealogists.
Storbeck's - specialises in genealogy books, maps, and CD-ROMs for family history research in the U.S., Europe, Scandinavia, the British Isles, and Canada.
European Focus Photography - creates photo portfolios for genealogy enthusiasts interested in seeing their ancestor's towns as they looked like then, and now.
Internet History Resources - thousands of images of historical documents useful for family history research of NSW, Australia. Records relate to land, mining and many different occupations.
Petersen Reproductions - reprinting Victorian antique art to enhance your genealogy.
Cherokee Proud - offers book of Cherokee genealogy and music of traditional artist Tommy Wildcat.
Australian Institute of Genealogical Studies Inc. - provides extensive collection of Australian and overseas resources covering CDs, fiche, film, books, periodicals and journals.
PlaqueMaker: Family Tree - offering family trees with birthstones custom engraved on cherry plaques.
Macbeth Genealogical Services - supplies genealogical books, microfiche, maps, and CDROMs worldwide. In our catalogues find birth, death, marriage, shipping, cemetery, and probate indexes, plus more.
Historical Data Services - specialises in cemetery records of Washington Co., New York, as well as local histories and genealogy concerning Massachusetts and Missouri.
Genealogical Services - provides a wide assortment of products and tools required by the beginner as well as the most advanced genealogist.
Compuology - specialises in both computers and genealogy; builds customised systems; upgrades existing systems; repairs genealogy databases.
British Ancestral Research - offers a professional genealogical service to enable you to discover your British family history.
Family Tree - transforms genealogical research into watercolour paintings.
Heritage Consulting - providing genealogy products, a record search service, and professional ancestry research.
Hubbell Family Historical Society - organisation of the descendants of Richard Hubball (Hubbell, Hubble, Hubbel, Hubel) in the U.S. and Canada.
Records Ireland - offers scans, transcriptions, and abstracts of birth, marriage, and death certificates, census and land valuation documents, and wills.
Banbridge Genealogy - traces your ancestors from the County Down area that date back to 1790 through to the 1920s.
Legacy Line, The - sells artifact storage systems that help people collect, organise, store, and present their family history, memories, traditions, and service to country.
Family History Land - professional genealogical and family history research and products. We also teach courses and provide research excursions. Sell books, charts, forms etc.
Family Research Library - specialising in genealogy and historical research, education, and publication.
Irish World Heritage Services - Researchers can trace your family history and provide framed high quality colour prints of your coats of arms.
Eneclann - an Irish historical and genealogical research service based in Trinity College, Dublin, Ireland.
Out Of The Past Programs - lectures on genealogy and history presented by professional genealogist, Richard L. Hooverson, a well-known author and speaker.
Appleton's Books & Genealogy - online catalogue of genealogy books, CD-ROMs, software, etc.
Heritage Project, The - offers an oral history kit.
Infocus - provides reviews of genealogy software products and genealogy web pages.
Ancestral Branches - we will search the globe for your family tree.
Meath Heritage Centre - professional family history service for people who wish to trace their Irish (especially Meath) ancestors.
Maltese Genealogy Family Tree Research - Maltese family tree service.
Tree Builder, The - printing custom family tree charts, pedigree and organisation charts, and offering genealogy research tips.
Genealogical Research - professional genealogist available to undertake genealogy research in Ireland.
Scots Ancestry Research Society - helps trace Scottish roots and ancestry with genealogy researchers. Specialises in Scottish family history and genealogy.
TreePrint - provides printing services enabling family trees to be viewed on continuous rolls of paper. Produces descendant, standard ancestor, vertical ancester, hourglass, and all-in-one trees.
Mygensearch.com - genealogy and family history research services directory for Ireland, England, Scotland, and Wales.
Ancestry Circle Family Genealogy Charts - offers unique family history wall charts created using customer GEDCOM files.
Kindred Konnections Genealogy and Family History Research - research site with 10 million name lineage-linked database, free genealogy software, and links to other genealogy research resources.
GenServ Genealogical GEDCOM Server System - extensive collection of GEDCOM databases on one computer system.
GenSource - provides online genealogists with databases to assist them with their research online.
Cambridge Statistical Research Associates - CSRA provides a subscription database for people tracing on the Internet, with probate and genealogical research, skip tracing and more.
Genealogy Database - containing cemetery records from all over Benton County Arkansas and Delaware County Oklahoma.
Family Connection, A - offers genealogy and ancestry database searches, personal interviews, customised family history albums,and handpainted tree designs.
GedLink - offers a plugin connecting to a worldwide network of genealogists and databases created by network users.
Allcensus - selling CD-ROMs with all federal census documents on them from 1790 to 1920 arranged by year, state, county.
Ships Pictures Research Service - helps genealogists and historians worldwide locate pictures of ships of many rigs, periods, and nationalities.
Family Genealogy Research - online local newspaper archives in a searchable database for genealogy and family tree research.
Mountain Press Genealogy Publications - publishes hard-to-find genealogy records for many Southeastern states such as Tennessee, Virginia, Georgia, the Carolinas, and more.
Modern Memoirs - private publisher of memoirs, family histories, and other limited editions.
Memory Catchers - writing, editing, and publishing services for turning memories into family treasures.
Heirloom Books - creates custom-bound personal and family history memory books.
Shared Memories - helps people write and prepare a personal life story book.
Family Tree Books - creates customised family history books complete with pictures.
Pastime Programs - share your personal or family memories by creating and managing online memoirs and journals.
AprilTree.com - build a family tree online and share with family and friends.
Yourfamily.com - offers a database of family homepages and genealogy research. Also contains links to web resources and services.
e-Family Forum - provides shared Web sites where families can stay connected and preserve family history featuring a calendar, album, favourite photos, and more.
Family Domain - customised family web sites, including templates and announcement pages.
Plumlee.Net - hosting for people with the surname of Plumlee. You can have your own vanity e-mail address.
Eternal Star Perpetual Memorial - designed to permanently host genealogy sites, preserve family photographs and documents, and preserve life stories.
Pastime Programs - share your personal or family memories by creating and managing online memoirs and journals.
Everton Publishers - genealogical magazine.
Genealogical Publishing Company, Inc. - commercial publisher of genealogical reference books, textbooks, and how-to books.
Gould Books - mail order bookstore; catalogue contains more than 6500 books, fiche, maps and computer programmes available for the genealogist.
Genealogy Books - books and diskettes for sale documenting family histories.
Absolutely Family - by Jeanne Rundquist Nelson. Offers tips and information on editing and publishing family newsletters and using them as genealogical tools.
Park Genealogical Books - specialising in genealogy and local history for Minnesota and the surrounding area.
Genealogical Publishing Co. & Clearfield Co. - home of the Genealogical Book Shop.
Generations Press - City and Town Plan Reproductions - publishing company specialising in immigrant research, Jewish genealogy, and historic map reproductions.
Flyleaf Press - publishes guides on researching families from specific Irish counties and provides information vital to people researching Irish roots.
Bernard Welchman's Somerset - genealogical research in the Somerset area.
Heritage Trails Genealogy - publisher of index books of records; site also includes lots of general information on how to get started in genealogy.
Kinship - Tips and information to aid in New York State family research. Site plans continuing expansion of data and resources being offered.
Gradeless Research Publication List - genealogy and local history from Whitley County, IN; index for obituaries published in Columbia City, IN; cemeteries in Thorncreek Township in Whitley Co.
Search Engine Genealogy - offers an instructional ebook that teaches readers how to use the Internet to find their ancestry and complete the family tree.
Oxford Ancestors - harnesses the precision of modern genetics in the service of genealogy. Also researches the geographical distribution of surnames in Britain.
Gens - genealogical research service for Italy. Designed for people located outside of the country, unfamiliar with Italian or lacking enough time.
Genealogical Journeys In Time - collection of surnames & queries including: ancestral lines, "The Researcher's Page", research services available, links to home pages.
Ancestor Travel - specialises in genealogy and family research, providing custom travel itineraries and accommodation within Great Britain and Ireland.
inGeneas Canadian Genealogical Research - site includes searchable Canadian passenger and immigration databases.
123 Genealogy - offers training products on how to perform genealogical research.
Find Your Family Tree.com - genealogy search site to help find ancestors and research family history.
ProGenealogists - professional genealogist specialises in researching and documenting difficult lineages in United States records.
Genealogy & History in France - Find your ancestors in France. Retrouvez vos ancetres en France.
Your Scottish Kin - aim is to trace Scottish roots and discover branches of family trees.
Family Tree Genealogical and Probate Research Bureau - specialises in the research of Central and Eastern Europe.
Native American Genealogical Research & Publishing Company - offering Native American, non-Native American, and Civil War genealogical research material.
Scottish Genealogical Research - Scottish historian David Dobson offers genealogical research services.
Mass-Doc Retrieval - specialises in locating contemporary and historical Massachusetts related documents.
A+ Genealogy Research Service - researching birth, death, marriage, probate, military, and census. Provides family tree charts, documents, and a bound report.
AAG International Research - professional genealogists utilizing the Genealogy Library in Salt Lake City, Utah. Includes Native American, probate, and heir research.
Ancestors Ltd - genealogists and producers of heraldic merchandise, pewter casting, quills, ink, and scriveners.
Croatian Genealogy And Heraldic Society - Croatian-American genealogical services.
Time Passages, Genealogy of the Dakotas - a family history and census research group that specialises in the genealogy of North Dakota and South Dakota.
Gentilis Ltd - a French genealogy research organisation with extensive experience in tracing ancestries, searching for birth, marriage, baptism and other certificates and finding missing persons.
ScotGenes - offers Scottish genealogical research services.
Big Family - provides services to people wishing to obtain information on their English, Irish, Scottish, or Welsh ancestry.
Scottish Forebears - Miss Thomasina Ross and Miss Agnes MacPherson - genealogists to discerning Scots everywhere.
Ancestral Research in Ulster - professional genealogist specialising in the nine counties of Ulster.
Genealogy Germany - provides genealogical research services for German ancestors or descendants. Also plans and guides small groups on personal genealogy tours within Germany.
Ancestors Lost and Found - genealogy research firm utilizing the Family History Library in Salt Lake City. Specialises in U.S., German, and British family research.
Gentrace - offers all genealogical services in the U.K. at very competitive prices. References on request.
Italian Family Tree - professional genealogical researcher specialising in Italian ancestry.
Staffordshire Ancestry Research Services - researcher searches archives for genealogy and family history in Staffordshire. Offers archive services, consultations, and site photography.
Komives, Ralph - document search service for genealogists, writers, and family historians.
Harris and Bright Genealogy - genealogy look up services. Consultations welcomed, specialising in African American genealogy.
Passenger Ships History Service - offering a photo and the history of a specific ship.
Deseret Census Service - census page copies and census research.
Kent Family History Research - research services and publications for Kent, England offered by Gillian Rickard.
London and Essex Genealogy - offers country wide research service of all records and archives.
Irish World Heritage Services - Researchers can trace your family history and provide framed high quality colour prints of your coats of arms.
S&D Services - researches family history and finds records and archives including birth, death, and marriage certificates.
County Roscommon Heritage & Genealogy Company - official organisation for tracing your County Roscommon ancestry, heritage, and Irish roots.
Family Tree Belarus - provides services for people wishing to obtain information on their Belarus family lineage.
Diggin' Up Bones - genealogy and cemetery research for Gloucester County, New Brunswick, Canada.
Scottish Family History and Ancestry Research - professional and friendly research service for those seeking their Scottish roots.
Ancestor Seeker - specialises in researching York and North Yorkshire family history and ancestry.
American Research Bureau - international probate researchers identify and find missing heirs and unknown heirs.
Muskoka Roots - provides fee-based genealogical research services for the Muskoka, Ontario region.
Bernard Welchman's Somerset - genealogical research in the Somerset area.
Pope, Richard M. - professional genealogist.
Golden Lyon II Genealogical Research - resource for studying related families of the Lower Eastern Shore area of Maryland, Delaware and Virginia.
Ancestral Attic - Polish document and records retrieval service utilizing archives and sources in America and Poland.
Genealogical Research - specialising in PA and NJ.
UK Genealogy USA - research services for United Kingdom and United States to find living and deceased relatives.
Deborah Stansbury Jones - performs genealogy research in and around Greene County, OH.
Title Research - legal genealogists specialising in identifying and locating missing beneficiaries on behalf of executors.
Premiere Research and Investigations - dedicated to family reasearch and help in the Location of lost relatives, family trees and genealogy.
Hoopers International Probate Genealogists - specialises in locating missing beneficiaries.
British Passenger Lists 1878-1960 - provides searches of the British Board of Trade passenger lists for emigrants, immigrants, and transmigrants to and from the U.K.
Where Are They Now? - British ancestral research.
Virginia Family Research - genealogical research using confederate and revolutionary war records.
Iberian Publishing Company - provides genealogical information for Virginia and other Southeastern U.S. States.
PerSearch by Van Campen & Associates - offers genealogical research services. Specialising in archival and "offline" searches. Full source and documentation provided. Inquiries treated with strict confidentiality.
Pippenger, Wesley E. - Research Historian, Genealogist.
SPIK Genealogical Research - on families of French-Canadian origin: specific dates of events, biographical notes, family lines and trees.
Tim Coopers British Ancestral Research - professional genealogist who can trace your British family tree.
Genealogical Research in Scotland - provides research into Scottish ancestry from statutory and parish registers, census returns, and other record sources.
MyGenealogist.com - hire a genealogist to help with family research, find ancestors, vital records, build a family tree, and more.
Roots and Branches - offers research in family, house, and local history, in the West Midlands area.
WW2 Connections - offers Veteran's Profiles, individualized personal memorial packages based on the military unit history of a loved one as a gift or addition to a family's genealogical file.
Celtic Research - we trace missing heirs, lost legacies and do general genealogical research.
Lamp Genealogical Research - performs a wide variety of genealogical research across the United States and in many parts of the world.
Warren Research - family history researcher.
Nick In Time - traces family and military histories.
Scottish Family History Research - offers Scottish family history research services by a professional genealogist.
Stapleton, Steve M. - genealogist & historical research.
Genealogical Documentation Service - offers family history research services.
Family Tree Maker - helps users manage and share their family history. Available in stand-alone and online versions.
Legacy Family Tree - genealogy software that tracks names, alternate names, dates, places, events, notes, sources, pictures, and sounds.
Leister Productions - developer of Reunion, the family tree software for Macintosh and Windows.
WinFamily - creators of WinFamily and Mylife, multimedia genealogy software for Windows.
Family Origins - genealogy software for preserving family histories.
GED4WEB - exports GEDCOMs to HTML files for publication of family trees on the Internet.
Gene Macintosh Genealogy Software - allows users to store family data, draw and print family trees create web pages from its database, and exchange GEDCOM data with users of other genealogy programmes.
GEDitCOM - customisable genealogy application for the Macintosh for editing and viewing GEDCOM genealogy files.
Misbach Enterprises - offers GED Browser software for converting GEDCOM files to HTML as well as a range of blank and customised genealogy wall charts.
Tree Maker, The - produces fan-shaped family tree wallcharts that can display over 500 names and eight generations.
Ancestor Detective - offers Clooz, for storing genealogical records, and Geneweaver, which helps users create and maintain family health histories.
Family Tree House - offers AFTER, the Association for FamilyTree Enrolment and Registry, which people can use to create family trees online.
Ancestral Author - constructs hyperlinked Adobe Acrobat PDF files from GEDCOM files, text files, images, and other user inputs.
Gold Bug, The - offers a range of historical information on CD-ROM including maps, gazetteers, and census sheets for academic research and genealogical studies.
Family Reunion - offers features such as reporting, data entry, text files, importing and exporting, linking, and a help system.
Family Forest - offering CD-ROM databases of genealogy and historical information for family history research.
GenSmarts - analyzes existing genealogy files to produce research recommendations, to-do lists, and more.
Genius - an easy to use Windows based family tree record keeper.
Familia - genealogical software for creating family photo albums, importing ancestor trees, and exporting them as web pages.
Archive CD Books Project - reproduces old and rare books on CD for genealogists and historians.
Brother's Keeper - genealogy programme that organises family information and prints a variety of charts and reports.
Allred Family Roster - compiled master index to the surname Allred and allied families.
Kinship Archivist - converts your genealogical information into web pages.
Direct Line Software - offers DeedMapper, a programme for analyzing old grants, deeds, surveys, and claims to make land ownership maps.
Genealogy Detective - helps users search the web to create a family tree.
HuhnWare - offers My Family Tree genealogy software.
uFTi - freeware programme that allows users to convert GEDCOM files into web pages.
FamilySpheres - preservation and archiving of family history on compact disc. Services also include photo scanning, enhancement and repair.
Genealogy Pro - freeware software programme for Mac OS X for storing family relationships and drawing family trees.
HPS Insignia - sells small business software for researching surname origins, identifying coats of arms, and creating Chinese astrology charts.
GEDCOM-Editor - allows Macintosh users to inspect, create, and modify genealogy data stored in GEDCOM standard files.
Canvas Prints - Canvas prints created from your (family) pictures, framed and ready to hang. Turn treasured memories into photo canvas prints from £8.99
Old Photo Repairs - Todays modern digital methods now make it possible to repair old photographs without damaging the originals. Cracked, faded, or washed-out, in most cases pictures are not a challenge for Photo-Repair
Genealogy records:
Having trouble finding your family history records? Enter your Surname here!
Read news releases and articles concerning the latest Online family records:
Search over 600+ Historical Databases
Search for Genealogy records online!
Genealogy Search Tips - review 1
Getting started with Genealogy
Click to search about:
Old News Archives:
January 2006
Feburary 2006
March 2006
April 2006
May 2006
June 2006
July 2006
August 2006
September 2006
October 2006
November 2006
December 2006
2007 Archives
2008 Archives
2009 Archives
2010 Archives

More Resources
Additional information about the your Genealogy
Genealogy Records
Having trouble viewing your family history documents? Click here for FREE samples
(Acrobat Reader Required)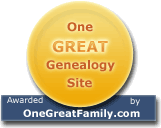 Research your
genealogy
at
OneGreatFamily!