Want to link to Free-genealogy.co.uk? Send an email HERE with your website URL. Don't forget to link back! (Due to amount of emails this could take a couple of weeks)
SITE LISTINGS >> Reference* >> Cemeteries >> Census Records >> LDS
Also See Obituaries
Genealogy reference sites are invaluable for anyone building their family trees and there are certainly a good few out there. All of the sites below have been reviewed to help you make your decision that much easier. But, you might just find that you'll want to visit all of them. Take a look around and remember to check back as they are often updated. Search Reference sites, Cemeteries, Celebrity Cemeteries and Latter Day Saints sites.
Cemeteries - A good addition to the free genealogy site and expanding every day as cemeteries become an increasingly popular addition to the genealogy hobby and family history lifestlye. Get even more information on your ancestors by searching the sites below and start to add in even more work to those free family tree templages you can find here.
Commonwealth War Graves Commission - provides personal and service details and places of commemoration for the 1.7 million members of the Commonwealth forces who died in the First and Second World Wars.
Tombstone Transcription Project - project to record fading tombstone inscriptions through volunteer action under the auspices of the USGenWeb.
Saving Graves - dedicated to the preservation and protection of endangered cemeteries. Includes state and country listings.
Epitaph Browser, The - a collection of tombstone epitaphs, both of the famous and of the obscure.
Victoria Tombstone Tales of Ross Bay Cemetery - includes tombstone art, history, and issues of concern to twentieth-century cemeteries.
Tomb With A View - quarterly newsletter devoted to enthusiasts of cemetery art, heritage, and preservation.
Cemetery Studies - offers lesson plans for a field trip to the local cemetery. Incorporates language arts, math, science, and history.
Glasnevin Cemetery - the final resting place for people of a great many denominations and nationalities.
Highgate Cemetery@
Connecticut Gravestone Network - includes cleaning basics, graveyard maintenance, gravestone rubbings, and more.
Kensal Green Cemetery
Suzielda's Cemeteries Site - features a collection of cemetery photographs and art images. Includes links.
Cemeteries - features a few photos dug up from the vaults.
Headstone Matters Discussion Group - relates to all matters concerning natural stone memorials and headstones.
York Cemetery - ecologically managed and historic cemetery. Includes history and events.
Brookwood Cemetery - includes map, grave search, history, and details of stone masons.
Countryside Burials - provides an eco-friendly alternative in meadow and woodland environs.
Cornish Cemeteries - includes memorial inscriptions, Parish records, and photos.
Afterlife: Streatham Cemetery - shots of the Streatham Cemetery taken between dusk and dawn over a period of two years by photographer Jonathan Clark.
ColdMarblePhoto - exploration of funerary monuments and stone architectural works in the Baltimore area.
Death Angels - features photos of Catholic cemetery angels and other sculptures from the Chicago area.
Cemetery Pictures - photographs from graveyards around the world.
Old Bones - dedicated to those who enjoy lurking in old graveyards.
Farber Gravestone Collection - searchable image gallery documenting the sculpture and art of thousands of Early American gravestones from the Northeastern U.S.
Writ in Water: An International Gallery of Memorials for the Dead - gallery of cemetery images from around the world.
Cemetery Photos From Around the World - includes images of funerary and gravestone art from New York state, southern France, and Spain.
Monumental Images - photographs taken in the local graveyards and burial grounds of Edinburgh, Glasgow, and elsewhere.
Ontario Cemetery Finding Aid - searchable database of over 1.1 million interments in Ontario, Canada.
Graveyards of Chicago - take a tour through the finest graveyards in the area.
Cimetiere du Pere Lachaise - historical cemetery includes the tombs of Jim Morrison and famous French citizens. Features a virtual tour and panoramas. Also in French.
British Columbia Cemetery Finding Aid - searchable and downloadable database of interments.
Old Burial Hill - provides pictures and tour of a New England graveyard.
New York Marble Cemetery - established in 1830 and sometimes called the Second Avenue Cemetery. Site includes history and vault owners.
Eternity - photography from cemeteries across Southern Michigan.
Cemeteries of Florida - list of interesting or historical grave markers from cemeteries in Florida.
San Francisco Cemeteries - before you buy that house in North Beach, Pacific Heights, the Sunset, or the Richmond District, check to see where they used to bury the dead.
Historic Texas Cemeteries - includes directory, information on protecting endangered cemeteries, photo gallery, and resources.
Tombs of the Dundee Howff - catalogue of grave transcriptions and photographs from The Howff in Dundee, Scotland.
Ghostwalker - presents a tour of the historical cemeteries of Colorado.
Celebrities Cemeteries - Genealolgy has become more and more popular as a hobby and I hope that free genealogy has helped you in some way. To add a fun section to the site you can now look up information on celebrities cemeteries so when you get stuck on that family history clue take a break a check out the recommended sites below.
Epitaphs - NEW! Yes you've guessed it. From cemetries to epitaphs free genealogy is all about those new and exciting branches of the genealogy hobby that are popping up all over the place (much like our family trees). Take a look at the sites below as they are great to read through and might introduce a few more ideas about your own family history hunting.
Census Records - A constant core to any genealogist and a favorite of free genealogy so check back often for even more free genealogy cencus record reference sites.
Church of Jesus Christ of The Latter-Day Saints Family History Centres - We've all heard of the Latter day sites and their dedication to the family history sector is never under question. Check these great free genealogy sites from the Latter day saints below.
Genealogy records:
Having trouble finding your family history records? Enter your Surname here!
Read news releases and articles concerning the latest Online family records:
Search over 600+ Historical Databases
Search for Genealogy records online!
Genealogy Search Tips - review 1
Getting started with Genealogy
Click to search about:
Old News Archives:
January 2006
Feburary 2006
March 2006
April 2006
May 2006
June 2006
July 2006
August 2006
September 2006
October 2006
November 2006
December 2006
2007 Archives
2008 Archives
2009 Archives
2010 Archives

More Resources
Additional information about the your Genealogy
Genealogy Records
Having trouble viewing your family history documents? Click here for FREE samples
(Acrobat Reader Required)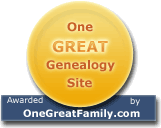 Research your
genealogy
at
OneGreatFamily!