Your family search: Top tips to get you started
Through genealogy you never know what you may uncover about your family. Find out if your great uncle really was a cattle thief or if you're somehow related to the royals. Thanks to loads of great online genealogy sites you can easily find out if you are a distant heir to royal riches or one of Beckham's cousins.
Begin the genealogy adventure today! Below are some Top tips for getting started with your family tree:
Start with what you know. You can begin by filling out a pedigree chart (Click here for a free one) – either on paper or online. Fill in as much as you can based on memory, then leave question marks indicating what you'll need to research in the coming months.
Purchase genealogy software. When shopping around for genealogy supplies, you'll find a variety of software designed specifically for family history research. Programs such as Family Tree Maker are indispensable tools for easily compiling and organizing data and the good news is FTM have just released a UK edition.
Look for records in your home. Before traipsing off to a library or records centres, you'll want to scour your own attic for family bibles, photographs, diaries, journals, letters, scrapbooks, legal records, baby books and, most importantly, birth, marriage and death certificates. It's a great feeling finding these old documents and if your anything like me then it'll make you feel like that detective you always pretended to be as a kid.
Interview relatives. You can begin to fill in the blanks on your pedigree chart by asking relatives for information. Often, extended family members will be able to provide much of your missing information. Remember to record or videotape the interview for posterity. Don't force the issue, if someone doesn't want to talk to you then respect their wishes. Make sure you treat people with the respect that they deserve.
Search compiled sources. While it's exciting to find original records for each of your ancestors, it's best to begin with compiled sources. Previously researched genealogies, biographies, family trees and name indexes will save you a lot of time in the long run. Online databases, such as those on www.ancestry.co.uk, www.Genealogy.com or www.nationalarchives.gov.uk can be a huge help. Make sure to check the Links page of free-genealogy.co.uk. There you'll find a whole wealth of great sites to help aid your search.
Pay attention to spelling. Variations in spelling (especially surname spellings) can affect the amount of information that you find. Be sure to try alternate spellings every time you search for a name. Or, for such sites as www.ancestry.co.uk , try the Soundex search feature which has helped me more times than I like to mention.
Cite your sources . As with any major research project, you'll want to ensure accuracy by keeping track of your sources. For every record that you use, record the title, a microfilm or volume number and a page number. Make sure to keep records detailed down on and offline. You never know when the computer will crash or when the dog will actually eat your work.
Read up on history. Learning more about the historical background and migration patterns of your ancestors will help your track down important sources of information – such as local histories, regional maps, town directories and gazetteers (geographical dictionaries). Keep checking back to free-genealogy.co.uk as we'll make sure to keep the site updated with the latest genealogy articles.
Share your discoveries. Once you've compiled at least a portion of your genealogy, you can begin to share it with friends, family members and fellow researchers. Using message boards, upload your tree where others can see your work and even contact you to share information they may have found on the same family lines. You can also use a number of sites to share discoveries that have chat forums.
More than just a hobby, genealogy is part of you - Your past, present and future. It's a labour of love to be passed to future generations. You never know what exciting information is waiting for you!

www.Ancestry.co.uk - 14 day FREE trial
Genealogy records:
Having trouble finding your family history records? Enter your Surname here!
Read news releases and articles concerning the latest Online family records:
Search over 600+ Historical Databases
Search for Genealogy records online!
Genealogy Search Tips - review 1
Getting started with Genealogy
Click to search about:
Old News Archives:
January 2006
Feburary 2006
March 2006
April 2006
May 2006
June 2006
July 2006
August 2006
September 2006
October 2006
November 2006
December 2006
2007 Archives
2008 Archives
2009 Archives
2010 Archives

More Resources
Additional information about the your Genealogy
Genealogy Records
Having trouble viewing your family history documents? Click here for FREE samples
(Acrobat Reader Required)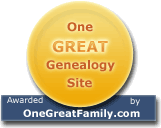 Research your
genealogy
at
OneGreatFamily!